Fifth Generation Jewelers serving West Texas for over 115 years.
- Marcus Majors, C.G.
Known for carrying high-end jewelry lines and luxury timepieces.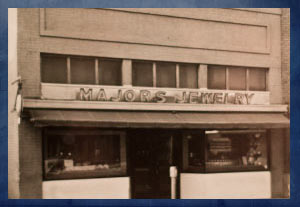 Colorado City Store, 1940's
About Sam L. Majors:
In 1898 J.P. Majors started a family owned business in Sweetwater, Texas consisting of Jewelers and Opticians. For Five Generations, Sam L. Majors has become well known for representing the finest jewels, timepieces and giftware in the world. With extreme attention to service, knowledge and exceptional quality, Sam L. Majors provides West Texas with a unique shopping experience with world class flare.
Not only do we house several Graduate Gemologists from GIA (Gemological Institute Of America) but we are also a member of the highly ethical American Gem Society with a Certified Gemologist in house. Sam L. Majors is an exquisite store offering the very best in luxurious jewelry, timepieces and giftware while providing exceptional customer service. We also provide personalized services such as; appraisals from a Certified Gemologist, expert jewelry and watch repair/service and custom design just to name a few.
We take pride in our community and support many local charities with donations and hours of community service. For over 115 years we have been truly blessed with the opportunity to provide luxury goods and services for West Texans and we look forward to many generations to come.
Upcoming Events
• Cynthia Ann Trunk Show: November 4th and 5th, 2022 from 10am-6pm Friday and 10am to 4pm on Saturday
Click here to view our Events page for more information
Affiliations
We are proud members of the American Gem Society and Gemological Institute of America. Membership in the American Gem Society is awarded only to selected jewelers who possess proven gemological knowledge and the highest ethical standards. As members of GIA we are proud to house several Graduate Gemologist.

Learn More

Learn More
Established in 1898 in Sweetwater, Texas,
J.P. Majors had four sons who were all in the jewelry business.